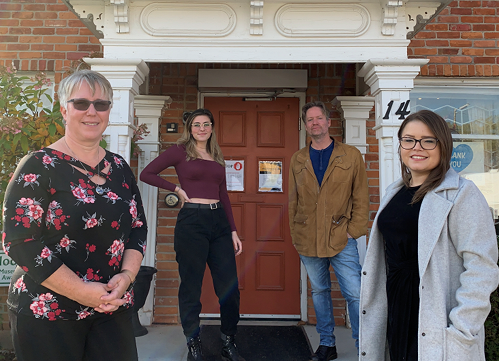 A Generous Donation from the Bushell Estate
February 10, 2021
The Estate of Donna Vera Evans Bushell has donated $130,000 to the Aylmer-Malahide Museum & Archives to fund a new 'Digital Archivist' position at the Museum, support the purchase of new technologies, boost the use of the 'On This Spot' app in the community, install a new large-scale mural in downtown Aylmer, and contribute toward the 'Museum Relocation Fund' to strengthen the long-term goal of establishing a new site for the Museum locally.
This significant donation will help the Museum to connect with community members, visitors and students, and add new dimensions to the unique cultural atmosphere in Aylmer and Malahide.
"We are so thrilled to be receiving this generous donation from the Estate of Donna Bushell," said Amanda VandenWyngaert, Curator of the Aylmer-Malahide Museum & Archives. "The funding provided for the position of Digital Archivist will allow us to digitize our archival collection, providing an invaluable resource for our community and researchers worldwide. The funding will also allow us to purchase specialized equipment to aid in the digitization of archival documents in our collection that we were previously unable to digitize due to size and condition. We are also excited to be able to offer an historic augmented reality tour of Aylmer and communities in Malahide. This will be an incredible free and interactive resource available to locals, visitors, and educators, allowing them to step into the past and learn more about the history of the community. Finally, the donation to our relocation fund will help get us one step closer to finding a new home for our museum."
"We are happy to arrange this donation to the Aylmer-Malahide Museum & Archives," stated Andrew Gunn, Consultant for the Estate of Donna Bushell. "The new Digital Archivist will transform the current archives into digital assets for the community, and the technologies to be acquired by the Museum will allow staff and volunteers to provide a more compelling experience for guests and students. We look forward as well to adding a new piece of public art to the local landscape. All of this should help to strengthen the Museum as the organization seeks to re-locate and continue to grow and serve the community in the coming years."
For more information, please contact:
Amanda VandenWyngaert, Aylmer-Malahide Museum & Archives
(519) 773-9723
aylmermuseum@amtelecom.net
Andrew Gunn, Consultant, The Estate of Donna Vera Evans Bushell
(519) 709-5227
gunn@andrewgunnconsulting.ca
Aylmer-Malahide Museum & Archives
The Aylmer-Malahide Museum & Archives was established in 1977 to serve as a community museum. The AMMA continues to preserve, present, and promote the history of Aylmer and Malahide through various displays and programming. The museum houses a local archive as well as over 40,000 artifacts relating to the history of local businesses, industries, families, and communities. The museum offers at least three exhibits a year, as well as school programs, senior programs, community programming, special events, and tours.
The Estate of Donna Bushell
Donna Vera Evans Bushell passed away November 9, 2019, in her hundredth year, the last of her family. Donna's passion was to plant trees and reminisce about her ancestors and friends while her sister Doris Evans taught music as a church organist. The oldest sister, Thelma Joiner, taught elementary school around Aylmer for forty-five years and researched local North Yarmouth history. All three sisters shared a love of their heritage as descendants of the pioneer Westlake, Penhale and Gilbert families who settled along the North Edgeware Road in Yarmouth. Their collected historical papers will eventually be deposited in the Elgin County Archives. More than $2.5M has been allocated from the Estate to date in support of a series of exciting projects in Elgin County and St. Thomas.
Photo: Kathi Vandermeer (left) and Amanda VandenWyngaert (right) of the Aylmer-Malahide Museum & Archives were joined recently by Emily Stage and Andrew Gunn of Andrew Gunn Consulting and Young & Free Press to highlight a donation of $130,000 to the Museum from the Estate of Donna Vera Evans Bushell.