The Tundra Swan
The Swans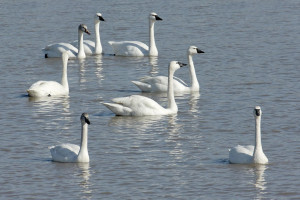 The Tundra Swan (Cygnus columbianus), formerly named the Whistling Swan, is identifiable by its black beak and has a small patch of yellow close to the eye. Mute Swans have an orange and black beak, and the Trumpeter Swan has a completely black beak.
The male Swan is known as a "Cob" and the female is known as a "Pen" and it is said that these birds mate for life. The Tundra Swan is the smallest of the three species.
Migration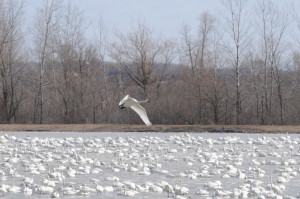 From wintering grounds in the states bordering Chesapeake Bay, the eastern population of the Tundra Swan begins its annual spring migration northward to breeding grounds in the high Arctic. Some 120,000 swans make a first landing at sites around Lake Arie in Ohio, Michigan and southwestern Ontario. Large numbers arrive at the Long Point Bay marshes and from there spread out through southwestern Ontario to traditional feeding areas such as Rondeau, Lake St. Calir, Thedford flats and Aylmer Wildlife Management Area and to any fields where there is a combination of standing water and quantities of waste corn.
Because corn is fed daily at Aylmer Wildlife Management Area, swans concentrate in numbers here, reaching 3000 birds at the peak of the migration in late March. Some birds stay only a day or two before moving on. Others remain for several weeks. Swans remain in family groups throughout the winter and during the spring migration. Only when they reach the breeding grounds are the young excluded from the adults' territories. A few moments of watching will distinguish the family groups; two adults and two or three young. The adults are white with an orange-stained head and the young are dull gray on head and neck.
The Swan Line
The Tundra Swan Line (519-773-7926 (SSE-SWAN)) began in 1985 as a community service to update swan fans and birdwatchers on the migration of the Tundra Swan. Early each spring, the Elgin Stewardship Council (ESC) begin to track the swans as the migrate through our area, stopping off at the Aylmer Wildlife Managemnet Area, where the ESC volunteers feed and monitor the swans daily.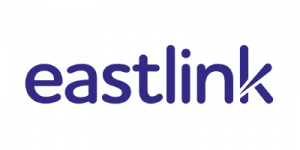 Eastlink provides this complimentary phone line, and the museum volunteers update the daily messages with the current swan count, conditions and any area activities available.