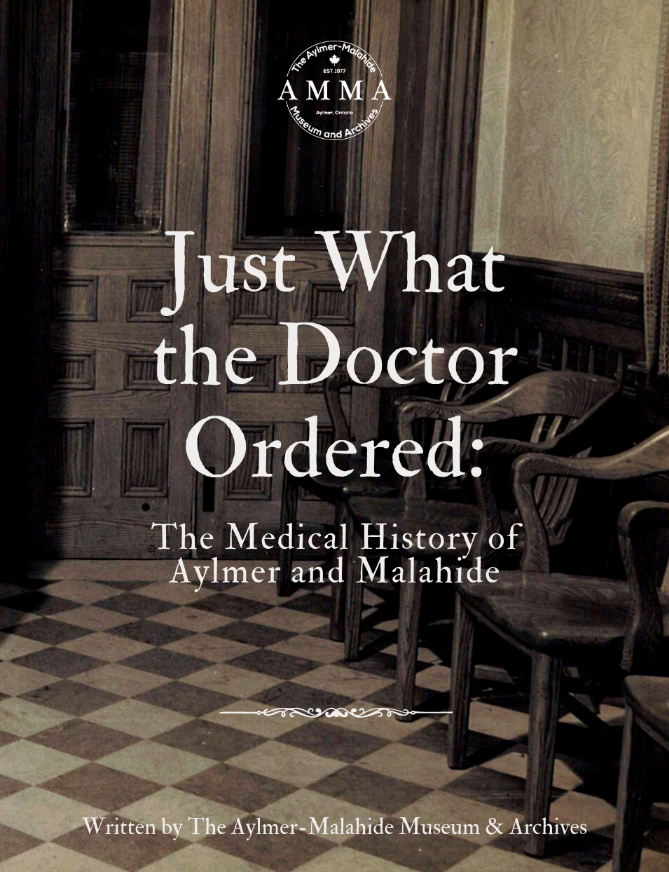 Now Accepting Preorders
April 22, 2022
After months of writing and editing, we're just about ready to print our latest publication, Just What the Doctor Ordered: The Medical History of Aylmer and Malahide. The publication details the histories of medicine, pharmacy, dentistry, nursing, eye care, and chiropractic in Aylmer and Malahide. We've written short biographies on every medical professional we were able to research, beginning with Dr. Edward Dancey, who arrived in Malahide Township in 1824. We've diligently harassed our current local medical professionals, and our publication will include their answers to the short survey we issued.
This project would not be possible without the support of our sponsors, including the Aylmer Express, the Royal Canadian Legion Colonel Talbot Branch No. 81, the Springfield Swans, Rosemary Kennedy, and Rhonda McNaughton.
We expect copies to sell at $30 for the general public and $25 for museum members.
If you would like to preorder a copy, please fill out the form below, or contact us at info@aylmermuseum.ca or (519) 773-9723. We will be in contact once we've received the printed publications. We appreciate your support!
(The form requires an email address to function. Feel free to contact us elsewhere, if you can't provide an email address.)