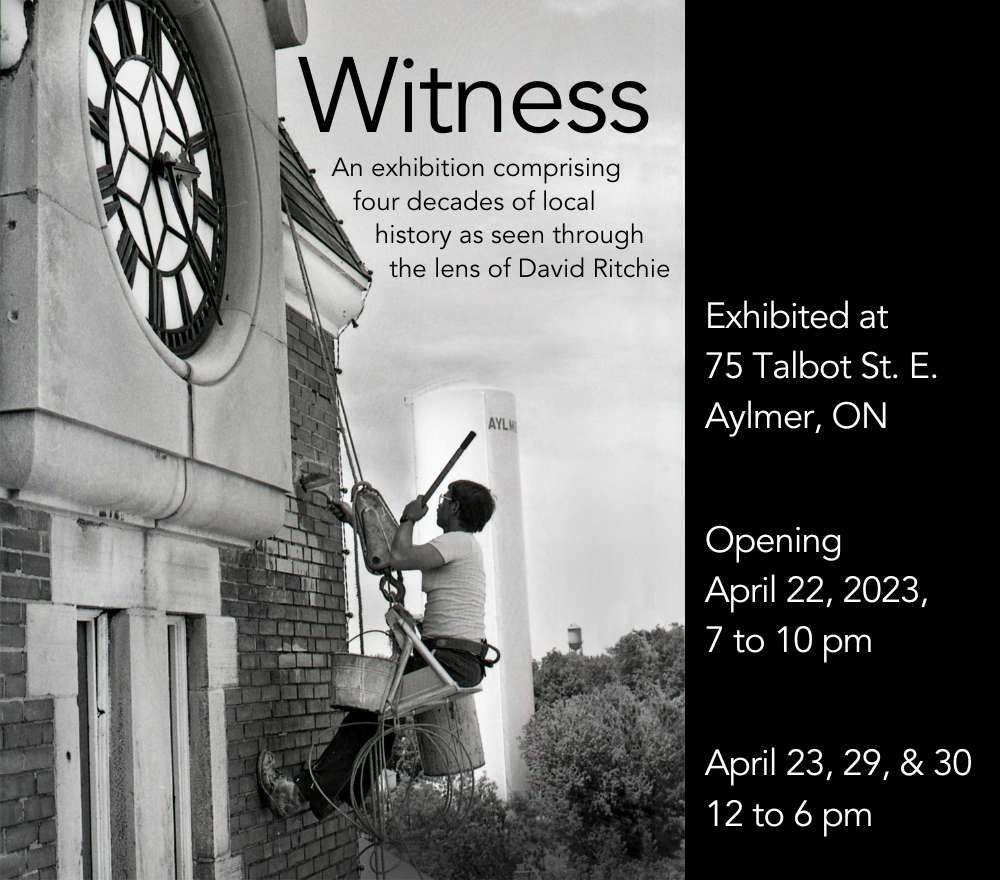 Witness
April 25, 2023
Presenting Witness: an extensive exhibition from the collection of local photographer David Ritchie. On display will be images of people, places, signs, landscapes, sports, buildings and more.
The Witness exhibit is a benefit to raise funds for necessary renovations needed at 75 Talbot St. E., the future home of the Aylmer-Malahide Museum and Archives. Mounted prints with signed mats will be available for purchase at $40 each, ready to fit a standard-size 11×14 inch picture frame. Each print sold will contribute $30 to the Museum renovation funds.
A select number of rare framed vintage b&w darkroom prints will also be available. The only remaining poster of Heritage Aylmer, a Ritchie poster printed in 2003 will also be offered. 25% from sales of these rare prints will be contributed to the Museum renovation funds.
Witness will be exhibited at 75 Talbot St. E. in Aylmer. The opening will be held on April 22ⁿᵈ, from 7 to 10 pm, and the gallery will be open on April 23ʳᵈ, 29ᵗʰ, and 30ᵗʰ from 12 to 6 pm. We will happily arrange private viewings, and interested parties can email info@aylmermuseum.ca or photog@amtelecom.net, or call (519) 773-9723 for more information.
Many thanks to the Aylmer Area Community Foundation for their generous support of this event.
About the Artist
David Ritchie came to Elgin county in 1976, first living east of Mapleton. He has resided in the Aylmer area since that time. As a self-employed photographer, he concentrated on industrial and commercial work. In the late 80s, he purchased Maxwell's Camera in Aylmer and operated there until 2001. The store offered custom framing, photo processing, supplies and equipment. For several years there was also a portrait studio, however formal portraiture held little interest for Ritchie and the studio was replaced with a colour film processing and printing lab to compliment the black & white darkroom.
He resisted the change to digital photography until 2008, continuing with his love for black & white, hand printing fine-art archival enlargements. Presently, Ritchie is semi-retired and continues to do some custom framing, photo restorations and sales of his photographs.